University Loft Company is more than a contract furniture company. We are more than a factory that builds furniture to endure the daily wear and tear of regular and sometimes hard use – sometimes extremely hard use. We are more than a designer with creative furniture products offering comfort and beauty to elevate your style, your facility, and your life.
Our upholstery items, seating solutions, dining products, and kitchen and bath items can be found in college and universities, apartments, and government units.
With qualified sales teams, outstanding customer service, tip-top production line-up, and a caring staff, we are ready to meet the needs of our partners on every front. We bring over 30 years of business ethics with a standard of excellence to the table. But we also have another side…
Softer Side to ULoft
Over the years, University Loft has given a helping hand to several charities and non-profit organizations by various means. In fact, the Uloft staff will get involved in holding clothing and food drives. From Production to Sales, from Shipping to Accounting, and every department in between, we get involved in the fun of giving to others in need. We will set large boxes out during those drives for the staff to drop their contributions in them and later deliver them.
University Loft has also supplied items such as bunk beds to women's homes, stack chairs to ministries, and other fine furniture items to non-profit organizations where there are needs. You don't always hear about the humanitarian and charitable branch of University Loft Company, yet something charitable happens often.
Recently, ULoft did something special for the Kenneth Butler Memorial Soup Kitchen, also known as KBMSK.
What is Kenneth Butler Memorial Soup Kitchen?
The Kenneth Butler Memorial Soup Kitchen is a place where kind-hearted people are making sure that no one in Greenfield, Indiana is hungry. Their mission is "To Serve the Sheep of Jesus Christ regardless of their race, religion, gender, orientation, medical diagnosis, mental capacity or criminal history by providing their immediate need for nutritious meals." Their vision is "that Greenfield, Indiana will be a city on a hill where the world will see that a community can exist without hunger."
---
ULC Got Involved
When Retail Store Manager, Jason Moody, became aware that this outreach needed the seats of their chairs replaced, Master Installer, Dan Garrison paid a visit to the kitchen. With the skill of a class-A craftsman, he replaced all of them as a donation from the company. The dining room is now neatly enhanced with University Loft seats, and the staff at the soup kitchen report that the replacement seats are nice and comfy. "Everyone at the Kenneth Butler Memorial Soup Kitchen was super nice. It felt great knowing everyone would be comfortable sitting on the chairs." Dan remarked. The soup kitchen staff gives their thanks to Jason Moody, Dan Garrison (Dandy Dan as they call him), and University Loft Company for supplying the replacement chairs.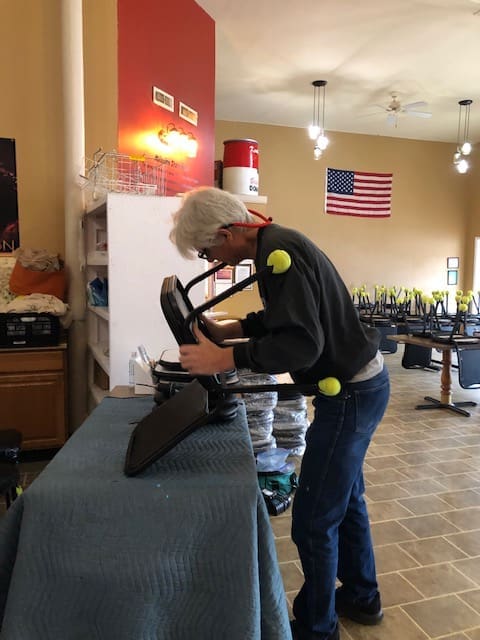 ---
About University Loft Company
University Loft Company headquarters and manufacturing facility is in Greenfield, Indiana. Our upholstery plant is in Morristown, Tennessee. We also have facilities globally.
At Uloft, we want to help make your dreams come true through our Plan, Visualize, Implement process. You can supply us with a drawing of your space, and our skilled team members will begin to put together your vision so you can see what you will be obtaining before spending any money.
We have furniture designed for multi-family units, apartment complexes, new developments, off-campus housing, student residence, boarding schools, municipalities, and military housing. Have a look around our catalogs to see products that will befit your needs. If you have any questions, you can contact us here or give us a call at 800-423-LOFT (5638). Do you need something quickly? Ask your Uloft representative about our Quick Ship Program. We would love to do business with you.
Founder and owner, James N. Jannetides says, "We are a company with ethics. Integrity is more than a word. We manufacture furniture the right way." As a leader in the furniture industry, University Loft is honored to live by a high standard of ethics that continue to bring innovative ideas for our customers everywhere.
Until next time ~ Ginger Bock