University Loft student housing has many advantages that students, parents and student resident furniture buyers can all appreciate. It would be too lengthy to name them all, so here are 5 prevailing virtues of ULC student housing furniture.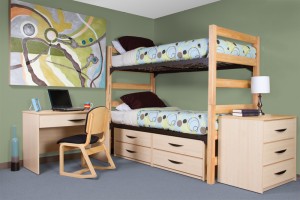 We're Styling
Our classic designs are constantly stylish. From The Graduate Series with finely grained hardwood to the cool steel and warm wood blend of The Metropolitan Series, our college furniture is fresh and ageless.
We're Comfortable
Uloft creates a relaxed atmosphere by crafting university furniture that is comfortable. Our chairs are ergonomically designed – good posture is so important. So if you are relaxing, studying or working at your desk, you will do so in the comfort of a University Loft chair.
We're Safe
We are committed to safety. Our college furniture is carefully built with safety features. From bed ends to paints and finishes, we go above and beyond the standard regulations and put safety first.
We're Strong
Tested to withstand immense amounts of weight and pressure, ULoft comes up winning. Our student furniture is built to last for generations and has done so. Is it possible that the children of former students are using the same dorm room furniture that their parents used? With University Loft it is!
We're Modular
Arrange and rearrange the college student furniture in innumerable ways to fit your taste or even your mood because we're modular. Our Tool-Less System™ for loft beds makes it quick and easy. So if you feel the need to change things around or you have to make room for another piece of furniture, you can reconfigure your room stress-free.
Those were 5 prevailing virtues of ULC student housing furniture that you can appreciate.
Would you like to see our variety of college furniture, off-campus housing, apartment furnishings and military housing? You can by browsing our catalogs. If you see something you like or have any questions, please contact us or give us a call today at 800-423-LOFT (5638).
We want your business and are ready to ship orders at short notice. Let us know how we can help you.
Founder and CEO, James N. Jannetides says, "We are always learning, always innovating, and always improving…We are University Loft Company." As a leader in the furniture industry, we are living up to that quote and haven't stopped with state-of-the-art ideas in not only university furniture, but also off-campus housing, apartment furnishings and military housing.
Until next time ~ Ginger Bock