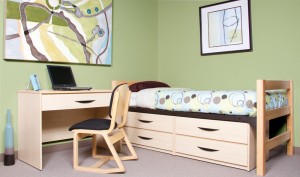 Your student room is your oasis. It's the place you go to study, change, sleep – get away from it all. You have your twin bed, your necessary desk, but your room is – well – missing somethings. You would like to give it your signature. What will set your place apart from others? Let University Loft Company help you put your personal touch on the dorm room you call your own with these 3 things that will liven a student residence up.
The Two-Position Chair
The Two-Position Chair is a dual purpose chair. The first and most important purpose this chair serves is the seat it offers you. Whether cushioned or not, solid wood or engineered wood and steel, you will be comfortable in a Two-Position Chair from University Loft Company. So long hours behind the desk will be no problem as far as your comfort is concerned.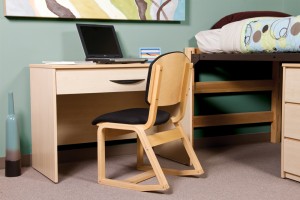 The second and coolest purpose of this chair is you can rock in it. Crafted so that you can lean back in it but not fall over. This chair takes your room from Level Boring to Level Interesting.
The Wardrobe
A brilliant was to store your clothes and items is in a wardrobe. Ours have a metal rod for hanging your clothes and a grommet hole in the back. The doors hinges rotate at 270 degrees allowing them to rest flat against the sides. Like everything else University Loft Company makes, the drawers are heavy duty. Our student furniture is versatile. You can use the wardrobe as an entertainment center as well. Keep your belongings in good order, and you've just danced up your room to the next level of lively.
Drawer Chests
You may ask how simple drawer chests can liven up a student residence. Well, they don't come with party hats painted on them, but they are stackable. Our two drawer chest is built to fit side-by-side underneath a bed. They can also be stacked as a four drawer unit. So, if you want to change your room around, these stackable drawer chests are perfect.
You have just given your dorm room the boost it needed with these 3 things that will liven a student residence.
There is much more university furniture to see and many more items that will brighten your room. Have a look at our catalogs. If you see something you like or have any questions, you can contact us or give us a call at 800.423.LOFT (5638). One of our University Loft representative will be available for you. We would love your business, so please let us know what you are looking for and we will help make your shopping a pleasant experience. By the way, orders can be shipped at short notice.
Uloft also carries off-campus housing, apartment furnishings and military housing. Ask a rep for details.
Founder and CEO, James N. Jannetides says, "We are a company with ethics. Integrity is more than a word. We manufacture furniture the right way." As a leader in the furniture industry, University Loft is honored to live by a high standard of ethics that continue to bring innovative ideas for university furniture, off-campus housing, apartment furnishings and military housing.
Until next time ~ Ginger Bock