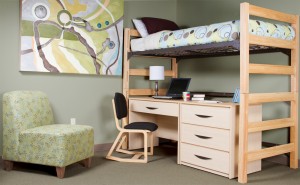 As innovators in the furniture industry, University Loft Company has blazed a trail for student housing that offers more in furniture. In a world where copies of copies are being copied, one furniture manufacturer remains true. LOFT is the real deal and continually creates new outstanding products. There are 4 things to know when buying college furniture. These 4 things come from University Loft Company.
1. The Tool-Less System™. Like no other, the Tool-Less System™ allows you to adjust the height of your bed without the need for tools. So, there is no major labor involved. You just choose between the 11 height settings, place the spring or bedrail over steel dowels and tap with your hand to lock it in place.
2. Endless reconfigurations. Our university furniture is modular. If you would like to change up the student residence, it easily reconfigures to a new design.
3. Space-friendly. Yeah, that's right, space-friendly. Modular furniture from Uloft is made for space planning and saving. Sleep on the loft bed, study under the loft bed, and store your belongings alongside the loft bed – well, that's one way you can do it. There are many different configurations that will make your room unique.
4. Environmentally Friendly. Because we love our planet, we give back to it. Every year on Arbor Day, we plant trees (and invite you to do the same – I'm thinking of a peach – no, a cherry tree). Our solid wood furniture is made from environmentally farmed timber, known as Hevea Brasiliensis. This wood is stronger than Northern Red Oak and grows much faster. That is why our solid wood college furniture stands the test of time.
4 things to know when buying college furniture will help you in your decision to go to the furniture manufacturer who remains true – University Loft Company.
Have a look at our great selection of college furniture, off-campus and military housing in our catalogs. Your business is important. A University Loft representative is ready to answer your questions. Simply contact us or call 800-423-LOFT (5638). We are ready to ship at short notice.
Founder and CEO, James Jannetides says, "We are always learning, always innovating, and always improving…We are University Loft Company." As a leader in the furniture industry, University Loft is living up to that quote and hasn't stopped with innovative ideas in not only university furniture, but also off-campus housing, apartment furnishings and military housing.
Until next time ~ Ginger Bock