Have you ever tried to bake cookies on a kitchen counter with little space? Or do you have more pots and pans than you have cabinets to store them? Have you worked on a craft with half the room you needed? Oh wait, here's one, have you ever tried to prepare a meal when you have only enough room for an item or two and your extra food ends up in a pot in the sink until you can make room for it? I know exactly what that's like.  Well, when counters aren't enough, that's when you need the University Loft Kitchen Island. From The Makers of Cool, the kitchen island supplements counter and cabinet space to optimize your kitchen needs and cooking time.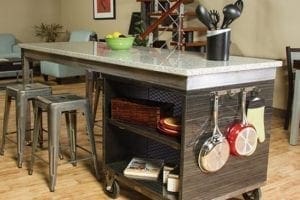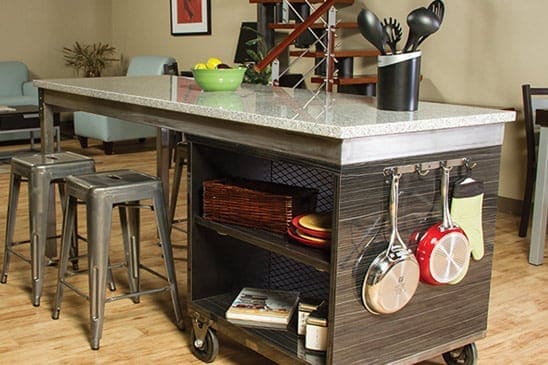 Small Kitchen – Small Island
If your kitchen itself is tiny then we have the perfect size island for you. It seats two and has storage and counter space to utilize enhancing your time in the kitchen. It's made for a smaller room and a smaller amount of people.
More People – More Island
University Loft also has a five-seater. The kitchen island a whole family or group of friends will love to sit around and enjoy a meal, play a board game, or work the family scrap book together (no devices allowed). 
It's Portable
It is on wheels and moves from one place to the next with ease. Roll it into the great room if you are entertaining and use it like a cart. The Kitchen Island is a great asset in any home or kitchen.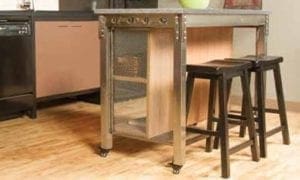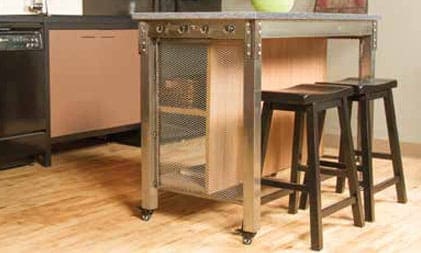 Pot Holders and Pan Stands
Storage beneath the countertop of the island holds pots and pans. There are also hooks for hanging cooking utensils. 
It's Hot
The heat resistant top is made from 100% real granite stone. Set a hot pot down without the worry of burning your counter. 
Kitchen Island Benefits
It is glamorous and practical. It's hot but stays cool. It is stable but can travel. It is good looking and undemanding. It is shiny and easy to keep clean.

Take a little jaunt through our catalogs and see more of our kitchen products or fine furniture. When you see something you would like to know more about, you can contact us or give us a call at 800-423-LOFT (5683). A skilled ULC representative will be available to help you. We want your business and can help get something to you quickly with our Quick Ship Program. Ask a rep about it.  
Founder and CEO, James N. Jannetides says, "We are a company with ethics. Integrity is more than a word. We manufacture furniture the right way." As a leader in the furniture industry, University Loft is honored to live by a high standard of ethics that continue to bring innovative ideas for university furniture, off-campus housing, apartment furnishings and military housing.
Until next time ~ Ginger Bock
University Loft is growing and we're looking for good workers to hire. If you are interested or know anybody who would like to enjoy the experience and relationship of being a part of this growing contract furniture company, contact us here or call 800.423-LOFT (5638).