The dinner guests were going to arrive in 2 hours. Maurice and Sally were desperately moving about the small kitchen trying to get the meal completed. Every few moments, one of them would say, "Excuse me." Or "I'm sorry." Or "Pardon me." Because they kept bumping into each other. The tiny counter was full, and Sally had no room to chop the vegetables. She placed the cutting board on the edge of the sink and carefully sliced the vegetables. Still more dropped into the basin than the bowl. When she finally finished, she picked up the bowl, turned around, ran right into Maurice. Vegetables flew into the air and onto the floor. Sally groaned.
"You know what we need to do?" Maurice said bending over to pick up the spilled garden.
"Dine out?" She offered
"No." He smiled. "We need to get a Kitchen Island from Loft."
Sally looked back at the limited counter space then back at her husband. "Tell me more."
Maurice opened his tablet and pulled up information on the Kitchen Island from Loft.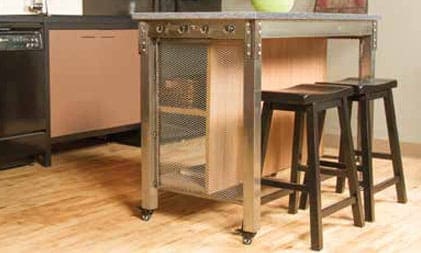 The Makers of Cool have created The Kitchen Islands, and they will offer the added counter space you may need in your kitchen. They are durable and aesthetic. Your kitchen will be beautified all the more with this island, and it will serve its purpose for years to come.
With two sizes, small and large, it will fit in most kitchens, but you can also move it around, put it in the dining room, or use it in the center of the kitchen while meals are being prepared then move it out of the way when you are finished.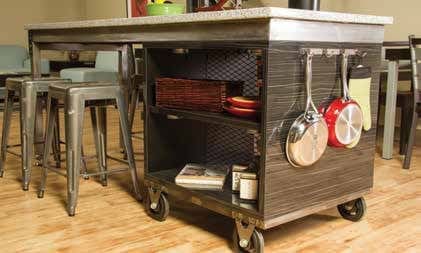 It comes with shelves for storage and decorations and hooks for hanging items.
With a 100% real granite stone top which is heat resistant, the island is perfect for rolling out dough for some tasty treats. It can also be used for family crafts or other projects you are working on.
Pull up a couple of Loft stools and enjoy your meal right at the island.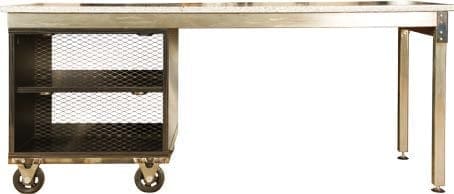 To see more of our fine furniture products for multi-family units, apartment complexes, new developments, off-campus housing, student residence or military housing, browse our catalogs. If you see something you would like to know more about, you can contact us or give us a call at 800-423-LOFT (5638). We want your business, and we can ship orders at short notice.
University Loft Company has been a pioneer of innovative furniture design and manufacturing for over thirty years. Our commitment to producing top-quality furniture that provides the best overall value is equaled to our commitment to a high-level of ethics as a contract furniture provider. As founder and CEO, James N. Jannetides says, "When all is said and done, we hope you'll recognize that our business isn't really about furniture; it's about the people who entrust University Loft Company to outfit the personal spaces where they live, work and play. To remain worthy of that trust, we are always innovating and always improving…we are University Loft Company."
Until Next Time ~ Ginger Bock
University Loft is growing and we're looking for good workers to hire. If you are interested or know anybody who would like to enjoy the experience and relationship of being a part of this growing contract furniture company, contact us here or call 800-423-LOFT (5638).