With university furniture from The Makers of Cool your student resident room becomes a great place to go to after classes, your solace when you need time alone, a fabulous study room, and a perfect place to have friends over for fun. That's because University Loft has college furniture for the student room such as the loft beds and bunk beds. These beds are modular and can be arranged in a variety of ways to get the most out of your space. There are writing desks and pedestal desks, which is your preference? The epic Two-Position Chairs allow students to rock back and forth (truly a must during long hours of study). Drawer chests and wardrobes are the perfect touch for storing belongings. University Loft furniture creates awesomeness in student housing. Your residence life is enhanced by the coolness of your room.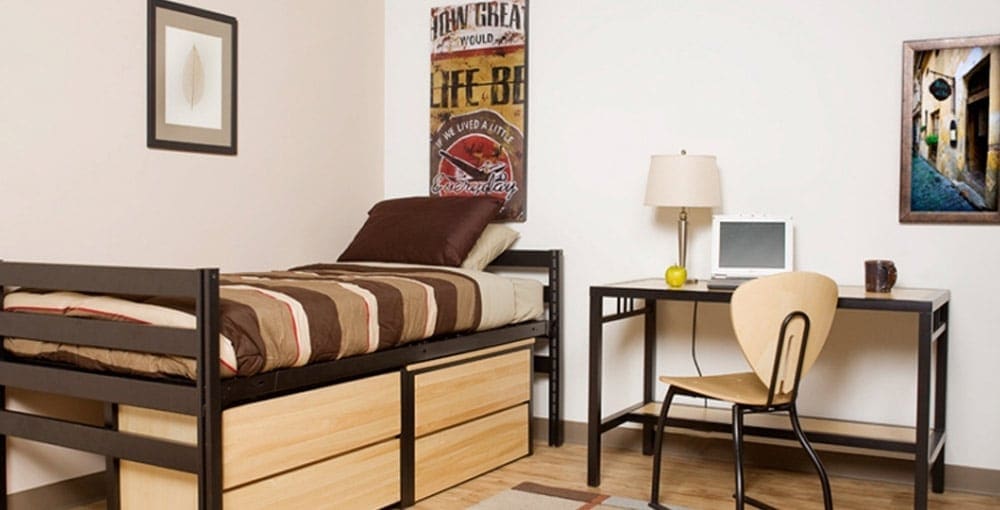 Another super plus in a room furnished by University Loft is that it is environmentally friendly. Our solid wood comes from Environmentally Farmed Timber. This wood has been tested stronger than Norther Red Oak, and it grows faster. Our metal products are built from recycled materials whenever possible. Your room is kind to our natural world, which is why University Loft Furniture creates awesomeness in student housing.
Have a look at the variety of student housing Uloft offers. Check out our catalogs and take a look around the website. If you want to learn more, you can give us a call at 800.423.LOFT (5638) or contact us here. A University Loft representative is available to answer your questions. We want your business and can ship your order at short notice. Just let us know what you want.
Did you know that University Loft Company is a leader in the furniture industry? We continue to create innovative furniture that will benefit campus life from loft beds to wardrobes, from Two-Position Chairs to desk chairs. Founder and CEO, James N. Jannetides' continual drive and determination is the force behind University Loft Company. His example as an extreme visionary has been a wellspring of encouragement and inspiration to many.
Until next time ~ Ginger Bock