I had to attend a meeting this week that lasted for hours – with no breaks. Ironically, I found that I rarely shifted to get more contented, and I remained completely comfortable. My back did not weary because it was supported. I didn't slouch because it was unnecessary. I was able to attend to business in ease and my mind was focused on the topic, not on getting more comfortable. You see, I was sitting in a University Loft Company Two-Position Chair. What a relief. The Two-Position Chair has been ergonomically designed to allow you to sit up straight in addition to supporting your back.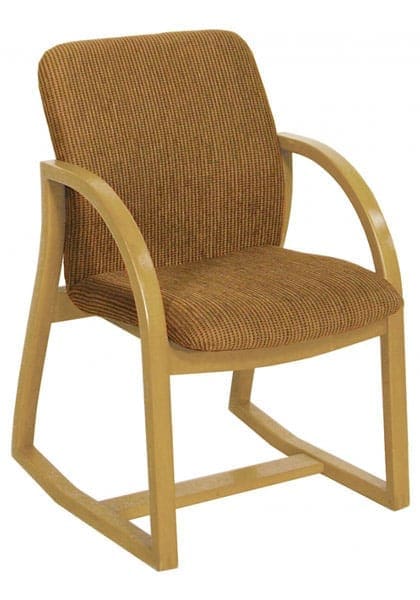 They are also built to tilt. At the feet of the chair is a slightly curved rocker. You can lean back and get a nice stretch break in these chairs. This allows for a relaxed atmosphere making study or work much more enjoyable. What's nice about these chairs is you can get them either upholstered in your choice of our array of fabrics or in solid wood. Either way, these chair offer hours of comfort.
Pair The Two-Position Chair with one of our pedestal desks. With a laminated top for long lasting protections, this desk works well in small spaces and still allows you the room you need to store your items. It includes two left side drawers with full extension drawer glides and a deep file drawer perfect for storing documents. Here is a bonus for you – the pencil drawer comes with a divider. No more mixing up your writing instruments.
The Two-Position Chair and the pedestal desk are a match for comfort while you study or work. One of the great attributes of University Loft Company is the variety of items and series we offer. You'll see what I mean when you browse our catalogs. If you have any questions or want to know more about The Two-Position Chairs and pedestal desks or any product we manufacture, you can contact us or give us a call at 800.423.LOFT (5638). A skilled Uloft representative will be available to help you. If you need something quickly, that is not a problem for University Loft, we can ship orders at short notice.
Did you know that University Loft Company is a leader in the furniture industry? We continue to create innovative furniture from loft beds to wardrobes, from kitchen islands to living room sets. Founder and CEO, James N. Jannetides' continual drive and determination is the force behind University Loft Company. His example as an extreme visionary has been a wellspring of encouragement and inspiration to many.
Until next time ~ Ginger Bock