You know how certain smells remind you of certain things. For example, fresh pine triggers thoughts of the forest, chlorine sends images of a swimming pool, a certain cologne reminds you of a special person, and baked cookies come from a kitchen.  Ah, the kitchen; a sweet place to unite. This is one room in the home where people gather. With a Kitchen Island from University Loft, meals can be prepared on it, crafts can be created on it, food can be eaten around it, and kids can do their homework while their dinner is being made. There are so many more uses for it, and University Loft Company has the perfect kitchen island for you. This will work in apartment complexes, houses, and multi-family units. We also know how everyone stands around the kitchen island, so this piece must be perfect.
These sturdy and durable islands are beautifully styled and practically designed. Because this is such a great addition to any kitchen, we want to demonstrate to you some of the outstanding features that come with it.
One Size Doesn't Fit All
You don't want to shove a large island into a small kitchen, that's why we have a couple of sizes from which to choose. Pull up a seat because around this kitchen island are places to sit. The larger one seats five and the smaller one seats two. Because they are portable, you can move them easily from one place to another.

It's Styling
It is fashioned like a cart that can be wheeled around. There are shelves beneath where you can store your kitchen items or put some nice decorations on them. If your kitchen is short on shelves, this offers extra storage. There are hooks for hanging, pans, utensils, pot holders, or towels.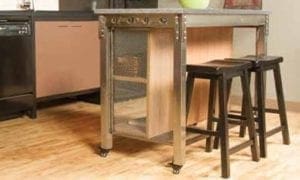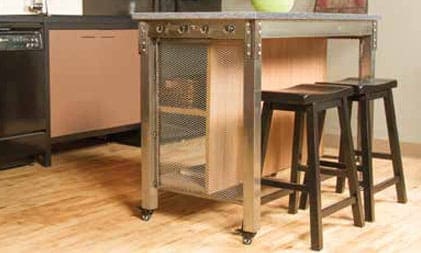 It Can Take the Heat
The top is made of 100% real granite stone, which is heat resistant. If you need to set a hot pot down, you don't have to worry about scalding the top. It's also a great place for rolling out dough for some tasty treats or doing something fun with the family like working a jigsaw puzzle.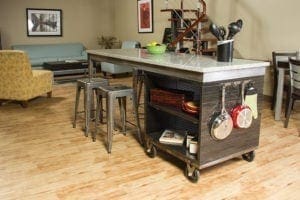 Would you like to see more of our fine furniture products? Just stop by our catalogs. If you see something you like or have questions about, you can contact us or give us a call at 800-423-LOFT (5683). A qualified Uloft representative will be available to help you. If you need something in a hurry, we can ship orders at short notice.
University Loft Company wants your furniture buying experience to be satisfying. We are committed to producing top-quality furniture that provides the best value to you. We are innovators manufacturing products to improve student residence furniture, off-campus and military housing, apartment and new development furnishing and multi-family unit housing. Founder and CEO, James N. Jannetides is the creative force behind University Loft Company. His vision for loft beds was only the beginning of the accomplishments done in contract furniture through this company.
Until next time ~ Ginger Bock
University Loft is growing and we're looking for good workers to hire. If you are interested or know anybody who would like to enjoy the experience and relationship of being a part of this growing contract furniture company, contact us here or call 800.423-LOFT (5638).