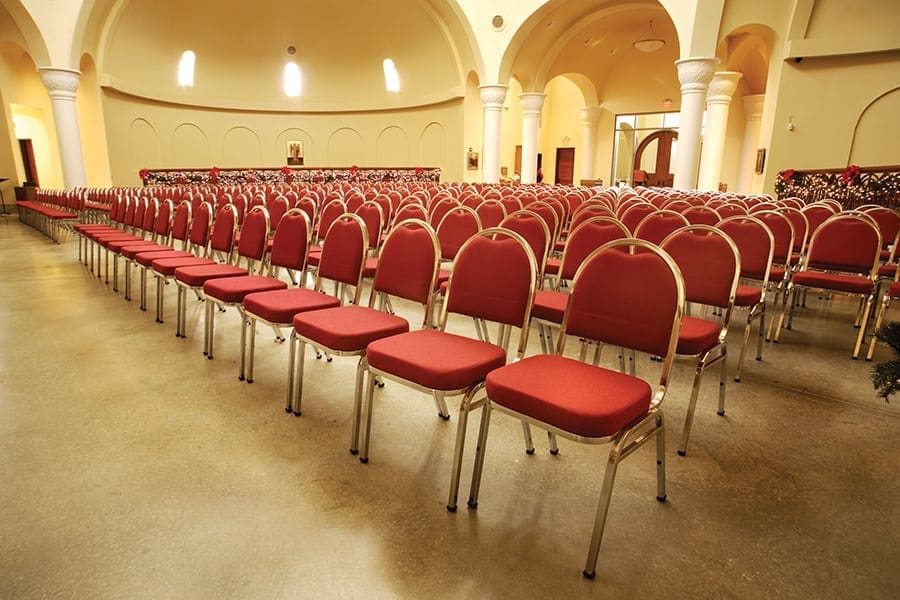 The other day I went to a concert. The seats were hard metal folding chairs. At first it wasn't so bad, but after a few minutes, I became – shall I say – less than comfortable. Shifting in my seat regularly wasn't solving the problem. I was doing my best to ignore my seating displeasure and enjoy the concert. I was in the full-blown discomfort zone. All I could think was "I wish I were siting in a practical stackable chair from ULC." They are so much more comfortable – and they aid in one's attention span.
In an auditorium, gymnasium or cafeteria the stacked chairs from University Loft will keep your guests comfortable. They can be used in any setting that needs removable or permanent seating.
Here are some of the reasons these stackable chairs work so well:
They are not cumbersome, and you can move them about with ease. When you need the floor for something else – like a dance contest or giant twister game – you just stack them and store them out of the way.
Space planning is an important part of the plan with University Loft Company, therefore, these favorites will save you space.
When stacking them, you simply slide the legs and seat on top of the bottom chair. You will love how these chairs have durable nylon glides which help eliminate tracers when they are pulled across the floor.
Just like our student housing furniture, these chairs are built strong to last long. The durable steel used has an added support brace below the seat providing extra strength for stacking. If that isn't enough, they have been tested to support 30 pounds of weight for as long as 24 hours.
Because they are padded, you can sit through any type of lengthy meeting requiring long periods of sitting, and you will remain in comfort. Furthermore, the padding is made from fire retardant foam. University Loft Company always puts safety first.
We offer vinyl chairs or those covered with fabric. You can choose the pattern that best fits you facility.
University Loft Company offers you the best in stackable chairs. And they're comfortable.
A Uloft representative can assist you with any questions you have. You can contact us here or give us a call at 800-423-LOFT (5638). We want your business, so take your time and browse our catalogs. We have something for you. We offer furniture for colleges, apartment housing, and defense quarters. Additionally, we can ship your order on short notice.
Did you know that University Loft Company is a leader in the furniture industry and continues to create innovative furniture from loft beds to wardrobes, from Two-Position Chairs to chest drawers? Founder and CEO, James N. Jannetides' continual drive and determination is the force behind University Loft Company. His example as an extreme visionary has been a wellspring of encouragement and inspiration to many.
Until next time ~ Ginger Bock