The kitchen. It's one of the most trafficked places in the home. It's that go to room for cooking, eating, cleaning, and gathering with friends and family. University Loft Company knows how important this room is to any individual or family and has created an item that is perfect for multi-family units, apartment complexes and houses.
LOFT presents…the new Kitchen Island.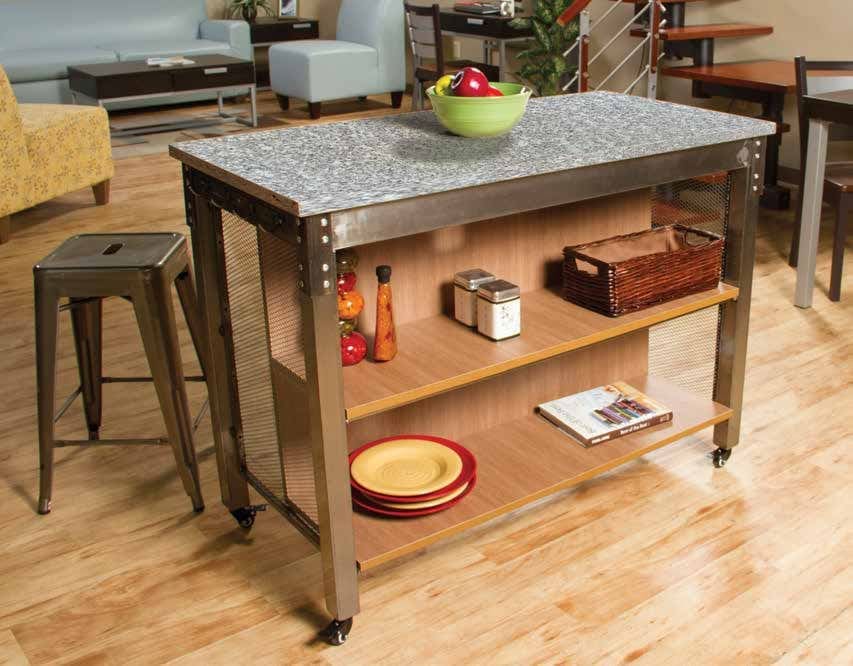 Your kitchen will be enriched with one of these stylish islands from LOFT. This portable island is not only an aesthetic addition to your kitchen, but it is also LOFT strong and durable. Whether you spend a lot of time there or a minimal amount, this is a great addition to any kitchen. Here are a few features that make this island outstanding.
It comes in small or large sizes. So if you have a tiny kitchen, no worries, this will fit.
It is styled like a cart. Shelves beneath serve to store your kitchen items. You can garnish those shelves with some decorations. This piece allows you to be creative while being practical.
It has a 100% real granite stone top which is heat resistant and perfect for rolling out dough for some tasty treats. You can prepare meals on it, use it for family craft time or other projects you are working on.
Pull up a couple of LOFT stools and enjoy your meal right at the island.
There are many more attributes to the new kitchen island. An Uloft representative will gladly talk to you in detail about them. You contact us here or give us a call at 800-423-LOFT (5638). You can see more of our amazing products by browsing our catalogs. University Loft Company has something for every room.
University Loft Company wants your furniture buying experience to be satisfying. We are committed to producing top-quality furniture that provides the best value to you. We are innovators manufacturing products to improve student residence furniture, off-campus and military housing, apartment furnishing and multi-family unit housing. Founder and CEO, James N. Jannetides is the creative force behind University Loft Company. His vision for loft beds was only the beginning of the accomplishments done in student housing through this company.
Until next time ~ Ginger Bock