Have you ever felt like you've had enough of going along with the crowd and you're ready to express yourself? You don't want to do this in the same way everyone else does. You want the core of who you are to shine through. That is when you can express yourself not because of the style of the day but because of who you truly are. That is why University Loft has created student housing furniture that allows you to show off who you are. So, when it comes to your college residence furniture, let the real you come out. Define yourself and your room with Uloft university furniture.
In the student residence, you need to have enough room for living comfortably and storing all of your items. This is a must. We have a solution for you. Our university student furniture is modular. It can be easily reconfigured in order for you to make the most out of your space. One way you can define yourself and your room is by selecting the way you want your bed to be positioned. If you don't like it one way, you can simply change it. University Loft furniture is designed to configure to the way that best suits your space and your style. Uloft beds can be set up as individual units. But if single twin beds take up too much space, you can open up the floor and turn them into loft beds or bunk beds. With our Tool-Less™ System, it's quick and easy. You don't even need tools (they take up too much space anyway).
Consider also the added furnishings for your dorm room. There is the Two-Position Chair where you can lean back but don't fall over. Perhaps you prefer the office chair with lumbar support.
Whether you prefer writing desks to pedestal desks or drawer chests to wardrobes, solid wood furniture or metal and laminate blend, you can easily define yourself and your room with Uloft university furniture.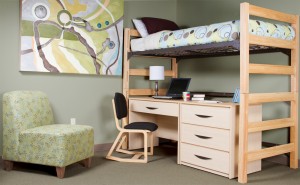 The photographs displayed here will give you an idea of what our college student furniture can offer, but to see more examples of our various series, like The Graduate Series or The Greenfield Series, have a look at our catalogs. We understand that some questions may arise, so give us a call at 800-423-LOFT (5638) or contact us online. If you have a specific manufacturing request, please ask one of our representatives. Your order can be shipped at short notice.
University Loft Company wants your furniture buying experience to be satisfying. We are committed to producing top-quality furniture that provides the best value to you. We are innovators manufacturing products to improve student residence furniture, off-campus and military housing, apartment furnishing and multi-family unit housing. Founder and CEO, James N. Jannetides is the creative force behind University Loft Company. His vision for loft beds was only the beginning of the accomplishments done in student housing through this company.
Until next time ~ Ginger Bock