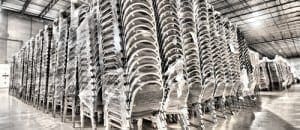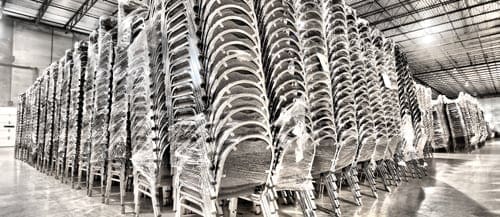 Unlike the 1964 pop classic Leader of the Pack by the Shangri-Las, there's nothing tragic about the cool, black steel and vinyl-clad stack chairs from University Loft Company. Oh sure, you might fall in love with them the way the singer fell hard for the motorcycle-riding leader of the pack, but at the end of the day there'll be no heartbreak, only satisfaction at how these chairs look, feel and perform.
These space-saving wonders from University Loft Company are simply the perfect choice for college campus seating solutions that need to be durable and portable. For instance, you can use these stack chairs for comfortable seating in campus cafeterias and dining facilities. Need to move them to clean beneath tables? No problem. With their tough nylon guides, your floors won't get scratched. And their fire-resistant foam-padded black vinyl seat cushion and back are made to last and easy to clean. Just wipe away those ketchup spills and it's next student up!
Like I said, these chairs are durable, rated to hold up to 300 lbs. for 24 hours straight! But the best feature of all, of course, is that these chairs are stackable. If your janitorial staff needs to clean the floors, or if you need to store these beauties for extra seating when needed, just stack 'em up till you need them again.
These black stack chairs are usually in stock and ready to ship to your college campus when you need them. Just contact us at University Loft Company at 800-423-LOFT (5638). After all, when it comes to college and university campus seating solutions, University Loft is the leader of the pack!
Bob
The ULoft Blog Team
About University Loft Company and our solid wood modular residence life furniture:
Since 1984, when James Jannetides built a loft configuration for his own dorm room at Southern Illinois University, hundreds of thousands of college students have enjoyed better campus living thanks to University Loft furniture. Today, University Loft serves more than 1,200 colleges, universities and related student housing partners. As Jannetides' says: "We are always learning, always innovating, and always improving … our environment, our products, and our service. We are University Loft Company."