The women and men who serve the country deserve the best in military housing. That is exactly what University Loft Company offers. Our defense furniture is built strong, is fashionable, is great for the environment, and has extra safety features included. Let's look at 5 ways our GSA furniture is better.
Cool Modulations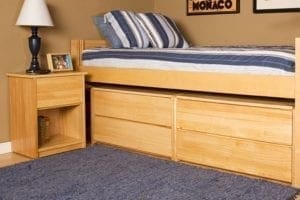 Go vertical with the Makers of Cool space saving furniture. It reconfigures into creative modulations that will make more room. One example is by lifting the twin bed up off the floor, you can use the space beneath for storage. Loft the bed and you can place other furniture items under it. Our Tool-Less System™ makes it easy.
You Go, Green
Solid wood defense furniture is built from Environmentally Farmed Timber. This wood has been tested and has come out stronger than the Northern Red Oak. The grain is like oak and different finishes are available. Ask your Uloft rep about your choices.
Strong Tops
Our strong laminate tops are made from engineered wood and are stain resistant. One amazing factor with our laminate tops is they won't leave a ring under your wet drinking glass. Nice!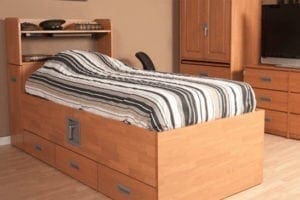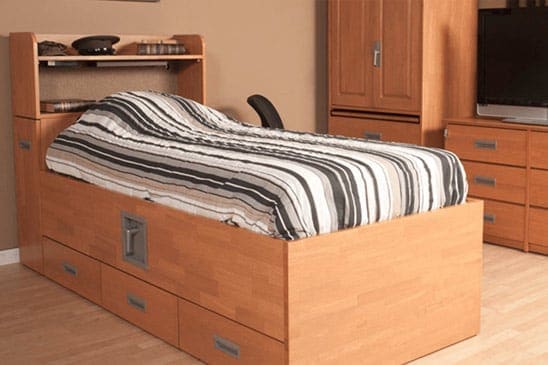 Safe and Secure
You can rest assured that your belongings are safely locked away because University Loft's GSA casegood have recessed locks.
Finishing the Room
Our Whole Room Solutions will help you finish the decorations with wall hangings, rugs, bedspreads, and televisions.
Our catalogs will give you a wider look at our Defense Quarters furniture. If you see something you like or have any questions, you can contact us or give us a call at 800-423-LOFT (5638). We want your business. A skilled ULC representative will be ready to help you. If you need something in a hurry, ask about our Quick Ship Program.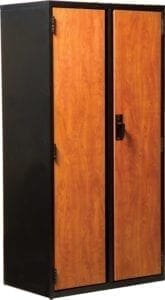 Founder and CEO, James N. Jannetides says, "We are a company with ethics. Integrity is more than a word. We manufacture furniture the right way." As a leader in the furniture industry, University Loft is honored to live by a high standard of ethics that continue to bring innovative ideas for university furniture, off-campus housing, apartment complexes and new developments, and GSA defense quarters to our customers regularly.
 Until next time ~ Ginger Bock
University Loft Company is growing and we're hiring. We are looking for good workers to become part of an excellent team. If you are interested or know anybody who would like to enjoy the experience and relationship of being a part of this growing contract furniture company, contact us here or call 800.423-LOFT (5638).